Top Places to Explore in Thane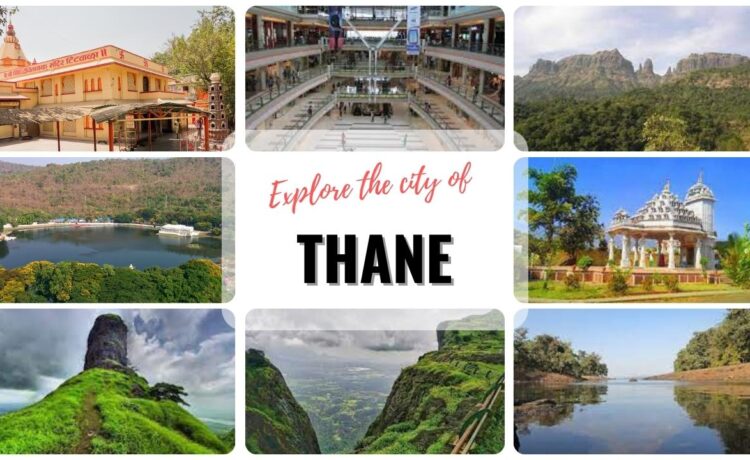 Thane, a city with a rich history and picturesque landscapes, is situated in the Indian state of Maharashtra. Its origins date back to the times of the Mahabharata, and it has since witnessed numerous battles and events. With its 33 lakes, Thane is aptly known as the City of Lakes, and the hills of Sahyadri offer an enthralling trekking experience. In this comprehensive guide, we will take you on a journey through the top places to explore in Thane.
1. Titwala Ganesh Mandir
Ganapati Bappa Moriya echoes through the air as you step into the serene and divine ambience of Titwala Ganesh Mandir. This ancient Hindu temple, dedicated to Lord Ganesha, showcases the North Indian architectural style. The temple's intricate carvings and labyrinthine design make it an alluring destination for thousands of Hindu devotees and curious non-Hindus alike. Make sure not to miss this temple, especially during the Ganesh Chaturthi festival when it is beautifully adorned.
2. Korum Mall
A haven for shopaholics, Korum Mall is a massive complex offering a wide variety of shopping options from leading fashion brands such as Levis, Adidas, and Nike. The mall features two kids' zones, a movie theater, and numerous food outlets, providing an atmosphere of fun and excitement for all ages. Whether you are visiting Thane for a day or staying longer, Korum Mall is a must-visit destination for shopping enthusiasts.
3. Mahuli Fort
Located amid lush green vegetation, Mahuli Fort is a 16th-century structure built by the Mughals. The fort now stands in a semi-ruined state, enveloped by trees due to its proximity to the Tansa Wildlife Sanctuary. This enchanting destination attracts a large number of history buffs and nature lovers, making it a well-known travel attraction in Thane.
4. Upvan Lake
Nestled among the picturesque Yeoor Hills, Upvan Lake is a captivating spot for relaxation and recreation. Surrounded by verdant vegetation and shopping complexes, the lake is an ideal destination for a leisurely day with loved ones. Upvan Lake is also the annual venue for the Sanskruti Arts Festival, where hundreds of participants come together to showcase their talents and celebrate the arts.
5. Manas Mandir
Reflecting the Jain architectural style, Manas Mandir is an awe-inspiring temple devoted to Lord Adinath, the first Jain Tirthankara. The temple's intricate carvings, set against the backdrop of the lush Western Ghats, make it a popular destination for devotees and tourists alike. Visit Manas Mandir to experience tranquility and inner peace.
6. Gorakhgad Fort
History enthusiasts and fort explorers will find Gorakhgad Fort an intriguing destination. Carved out of massive boulders and surrounded by the misty hills of the Western Ghats, this fort was constructed by a local Maratha ruler. One fascinating fact about Gorakhgad Fort is that it was never captured by the British. Additionally, the nearby Sahyadri ranges offer exciting trekking opportunities for adventure seekers.
7. Naneghat Hills
Part of the scenic Sahyadri Mountains, Naneghat Hills once served as a toll collection gateway under the rule of the Satvahana dynasty. The Marathas later abolished this practice after gaining control of the region. Today, the hills' geography has transformed, making it a popular trekking site in Thane.
8. Tansa Lake
Cradled within the verdant Sahyadri hills, Tansa Lake is a magnificent artificial lake known for being the largest in Maharashtra. With its capacity to hold three million gallons of water, Tansa Lake is a sight to behold. Nearby, the Tansa Wildlife Sanctuary is home to a variety of exotic species, including the white peacock, cockatoo, nilgai, and blackbuck, offering a delightful experience for wildlife enthusiasts.
9. Sai Baba Temple
Located in Dombivali, Thane's Sai Baba Temple is a renowned shrine dedicated to the revered saint Sai Baba. The temple's impressive architecture resembles the famous Shirdi Sai Baba shrine, drawing large crowds of devotees every week, particularly on Thursdays. Visitors come to offer prayers and distribute alms to the less fortunate, making this temple a significant spiritual destination in Thane.
10. Bassein Fort
Bassein Fort, situated in the village of Vasai in Thane district, is unique in its Portuguese-British architectural style. The fort once served as the seat of authority for the Portuguese but now stands in a semi-ruined state. Despite this, the fort continues to attract numerous visitors, offering a glimpse into the region's fascinating past.
Additional Destination: Butterfly Park – Ovalekar Wadi
Imagine being surrounded by over 100 species of butterflies in a vibrant, 20-hectare garden. Ovalekar Wadi Butterfly Park provides this enchanting experience to visitors of all ages. The park's lush greenery and captivating surroundings make it an ideal recreational spot for a one-day itinerary in Thane.
In conclusion, Thane offers a diverse range of destinations catering to various interests. From ancient shrines and historical forts to picturesque lakes and recreational spots, Thane has something for everyone. So pack your bags and get ready to explore the fascinating city of Thane.
Aluva, a lesser-known destination in the beautiful state of Kerala, offers a charming and enriching experience to those who venture...