Top Places to Explore in Rajkot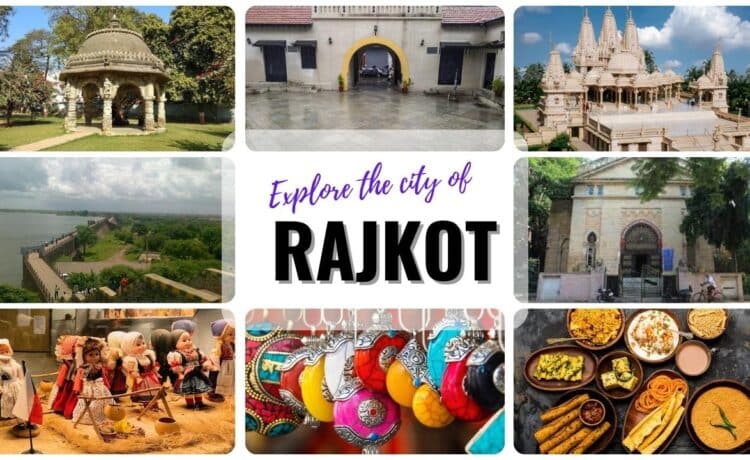 Rajkot is a city that encapsulates the essence of Gujrat vibrant state. Known for its rich cultural heritage, historical significance, and modern charm, Rajkot has something to offer every traveler. From ancient temples and palaces to bustling markets and delectable cuisine, this city is a treasure trove waiting to be explored. We'll take you on a virtual tour of the top places to explore in Rajkot.
1. Jubilee Garden: A Tranquil Oasis
Start your journey with a visit to Jubilee Garden, a sprawling park located in the heart of Rajkot. This serene green space is a perfect place to relax and unwind. It features a picturesque pond, lush lawns, and a charming clock tower. Don't miss the chance to explore the beautiful Watson Museum, which is located within the garden premises and houses a remarkable collection of artifacts and historical exhibits.
2. Kaba Gandhi No Delo: Mahatma Gandhi's Childhood Home
Rajkot holds a special place in India's history as it was the birthplace of Mahatma Gandhi. Kaba Gandhi No Delo, the house where Gandhiji spent his childhood, has been transformed into a museum dedicated to his life and teachings. Visitors can explore the well-preserved artifacts, photographs, and letters that shed light on the great leader's journey.
3. Swaminarayan Temple: A Spiritual Haven
The Swaminarayan Temple in Rajkot is a testament to stunning architecture and profound spirituality. This intricately carved temple is dedicated to Lord Swaminarayan and is adorned with exquisite marble work and colorful frescoes. Whether you're a devotee or an architecture enthusiast, this temple is a must-visit.
4. Aji Dam: A Natural Retreat
If you're looking for a nature escape, head to Aji Dam, located just a short drive from the city center. This picturesque reservoir is surrounded by lush greenery and offers boating facilities. It's a popular spot for picnics and a great place to unwind while enjoying the serene views.
5. Rajkot Race Course: Equestrian Beauty
For a unique experience, visit the Rajkot Race Course. This equestrian venue hosts thrilling horse races and offers a glimpse into the city's sporting culture. Even if you're not into horse racing, the grandeur of the racecourse is worth witnessing.
6. The Watson Museum: A Treasure Trove of Artifacts
As mentioned earlier, the Watson Museum is located within Jubilee Garden and is a must-visit for history buffs. It houses an impressive collection of artifacts, sculptures, and paintings that showcase the rich heritage of Gujarat. The museum provides insight into the region's history, from its ancient past to its colonial era.
7. Rotary Dolls Museum: A Unique Collection
The Rotary Dolls Museum in Rajkot is a one-of-a-kind attraction. It houses a diverse collection of dolls from around the world, making it a fascinating experience for visitors of all ages. The meticulously crafted dolls provide a glimpse into different cultures and traditions, making it both educational and entertaining.
8. Rashtriya Shala: A Hub of Traditional Crafts
For those interested in traditional Indian crafts, Rashtriya Shala is a must-visit. This institution promotes and preserves various traditional art forms, including weaving, pottery, and block printing. Visitors can witness artisans at work and even purchase handmade crafts as souvenirs.
9. Local Bazaars: Shop Till You Drop
Rajkot is complete without exploring its vibrant local markets. The city is famous for its jewelry, textiles, and traditional handicrafts. Don't forget to visit the Bangdi Bazaar and the Dhebar Road Market, where you can indulge in shopping sprees and savor local street food.
10. Delicious Gujarati Cuisine: A Gastronomic Adventure
Rajkot is a paradise for food lovers, especially those who enjoy traditional Gujarati cuisine. From mouthwatering dhoklas and fafdas to delectable sweets like jalebi and ghari, the city's culinary scene is sure to tantalize your taste buds. Be sure to explore local eateries and savor the authentic flavors of Gujarat.
In conclusion, Rajkot is a city that seamlessly blends its historical heritage with modern amenities, making it an ideal destination for travelers seeking a diverse cultural experience. Whether you're interested in history, spirituality, nature, or simply enjoying delicious food, Rajkot has it all. So, embark on a journey to this hidden gem in Gujarat for an unforgettable adventure.
Aluva, a lesser-known destination in the beautiful state of Kerala, offers a charming and enriching experience to those who venture...