Top Places to Explore in Pali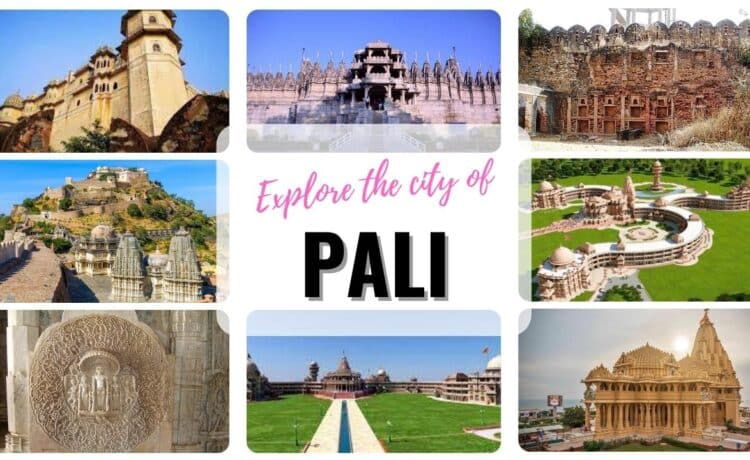 Pali, a city steeped in history and culture, is located in the heart of Rajasthan, India. As the administrative headquarters of Pali District, this destination offers a unique blend of ancient architecture, natural beauty, and vibrant traditions. With its rich history and stunning landscapes, Pali is a must-visit destination for any traveler looking to explore the best of Rajasthan. In this comprehensive guide, we will take you through the top places to explore in Pali, offering insights on how to experience the true beauty of this remarkable region.
1. Ranakpur: A Marvel in Marble
Ranakpur, a quaint village situated in the Desuri tehsil near Sadri town, is one of Pali's most renowned tourist attractions. Nestled amidst the picturesque Aravalli Range, this village is home to the magnificent marble Jain Temple, widely regarded as the most spectacular of its kind. The temple's intricate carvings and immaculate architecture are a testament to the craftsmanship of the artisans who constructed it.
How to Reach Ranakpur
Ranakpur is easily accessible by road from Udaipur or Jodhpur. The nearest railway station is Falna, which is well-connected to major Indian cities. From Falna, one can hire a taxi or take a bus to reach Ranakpur.
Attractions in Ranakpur
Apart from the awe-inspiring Jain Temple, Ranakpur also houses a small Sun Temple managed by the Udaipur royal family trust. The temple, dedicated to the Sun God, is a splendid example of medieval architecture and is worth a visit while exploring Ranakpur.
2. Golden Temple: The Shimmering Jewel of Falna
Located in the town of Falna, the Jain Golden Temple is another popular tourist attraction in Pali. This sacred temple, dedicated to Shri Shankeshwar Parshwanath Bhagwan, is adorned with intricate gold work and exquisite carvings, making it a must-visit site for pilgrims and travelers alike.
Attractions in Falna
The Kanch ka Mandir, or Mirror Temple, is another fascinating site to explore in Falna. Situated below the main temple, this subterranean chamber features walls adorned with tiny mirrors, reflecting light in mesmerizing patterns. While small in size, the Kanch ka Mandir is a unique and enchanting attraction that should not be missed.
3. Om Temple: The Spiritual Epicenter of Pali
The Om Temple, located in the village of Jadan, serves as the headquarters for the Society promoting health, education, yoga, and Vedic culture. The centerpiece of this vast complex is designed in the shape of the ancient Sanskrit symbol OM, representing the fundamental source of creation and the cosmic vibration.
The Architectural Marvel of Om Temple
Spread across 250 acres, the Om Temple is the world's largest man-made representation of OM. Comprising 108 residential chambers, the temple complex is believed to harness a significant amount of cosmic energy. The crescent Moon of the OM symbol is represented by a lake, while its highest point, Bindu, is a 108-foot-tall tower housing 12 temples dedicated to various deities.
4. Auwa: The Site of a Historic Rebellion
Auwa, a small village located 12 kilometers south of Marwar Junction, gained prominence during the 1857 uprising against British rule. Led by Thakur Kushal Singh, the villagers of Auwa, along with soldiers from neighboring regions, fiercely resisted the British forces, ultimately emerging victorious in two significant battles.
Attractions in Auwa
While the village of Auwa may be small, its rich history and the spirit of rebellion that it embodies make it an essential stop for those looking to delve deeper into Rajasthan's past.
5. Somnath Temple: The Abode of Lord Shiva
Situated in the heart of Pali, the Somnath Temple is a well-known site for its historical significance and architectural splendor. Dedicated to Lord Shiva, this ancient temple was constructed by King Kumarpal Solanki of Gujarat in the Vikram Samvat 1209. The temple complex also houses several smaller shrines dedicated to various Hindu deities.
6. Surya Temple: A Tribute to the Sun God
Located on the banks of the Mavi River, the Surya Temple is a magnificent medieval shrine dedicated to the Sun God. Surrounded by the scenic Aravali hills, the temple stands on a raised platform and features intricate carvings and stunning architecture. The polygonal sanctum and hall are adorned with a running band of solar deities seated on chariots, creating a visually striking effect.
7. Ghanerao: The Guardian of Kumbhalgarh Fort
Ghanerao, a village in Desuri tehsil, was once responsible for protecting the historic Kumbhalgarh Fort, now located in Rajsamand district. This village is home to numerous Hindu and Jain temples, including Laxmi Narainji, Murlidharji, and Charbhujaji, as well as eleven Jain temples, some of which are quite old.
Attractions in Ghanerao
While exploring Ghanerao, visitors can also visit Giriji ki Dhooni Math, which houses a beautiful Gajanand Temple. Additionally, the Muchhala Mahavir Jain Temple, managed by the Anandji Kalyanji Trust, is located nearby and is believed to be of great antiquity.
8. Ashapura Mata (Nadol): The Divine Mother
Nadol, a small village located northwest of Desuri, was once the capital of the Chauhans of Shakambhari's collateral line. The village and its surrounding areas are home to several prominent temples, including Padma Prabhunath, a beautiful Jain temple, and the temples of Somnath, Rikheshwar Mahadeo, and Ashapura Mataji.
Attractions in Nadol
The Hanumanji Temple, located on the bank of a nearby lake, features exquisite marble carvings and is another must-visit site in Nadol. Moreover, the majestic Parasvanath Jain Temple, considered one of the Panch tirthi for the Jain community in the district, is situated approximately 9 kilometers from Nadol.
9. Muchhala Mahaveer: The Moustached Savior
The Muchhala Mahaveer Temple, while not mentioned in historical records, is believed to be quite old and has a fascinating legend associated with it. The temple is dedicated to Lord Mahavir, who is depicted with a moustache, a feature that has its roots in an encounter between the deity and a devoted worshipper.
The Annual Fair at Muchhala Mahaveer
Every year, in the month of Chaitra, a fair is held at the Muchhala Mahaveer Temple, drawing large crowds of devotees. The temple is located 40 kilometers from Falna, the nearest railway station.
10. Sonana Khetlaji: The Protector of Marwar
Shri Sonana Khetlaji Temple, situated in the village of Sonana in Desuri tehsil, is a historic shrine dedicated to Shri Khetlaji. Established some 800 years ago, the temple is managed by local Brahmin Rajpurohit families, who perform daily rituals and prayers.
The Annual Fair at Sonana Khetlaji
A two-day fair is held every year on Chaitra Sudi Ekam, attracting over a lakh devotees. The event features Holi dancers in traditional attire and extravagant costumes, as well as numerous devotees undertaking long, barefoot pilgrimages to seek blessings from the deity.
Best Time to Visit Pali
The best time to visit Pali is during the winter season when the weather is cool and pleasant, making it ideal for sightseeing and exploring the various attractions.
How to Reach Pali
By Air
The nearest domestic airport to Pali is Jodhpur Airport, which is approximately an hour and a half drive away. The airport is well connected to major cities, including Delhi, Mumbai, and Udaipur, via Air India and Jet Airways.
By Rail
Pali Railway Station is well connected to major cities in Rajasthan and other parts of India, with trains from Guwahati, Jaipur, Ajmer, Bangalore, Ranakpur, Yeshwantpur, Bikaner, Jodhpur, and Mysore.
By Road
Pali is well connected by road to major cities in Rajasthan, including Luni, Jodhpur, Samdari, Beawar, Ajmer, Udaipur, Jaipur, Bikaner, and Kota.
In conclusion, Pali is a treasure trove of historical, cultural, and architectural wonders that should be on every traveler's itinerary when exploring Rajasthan with Thecitytraveller. From the awe-inspiring marble Jain temples of Ranakpur and Falna to the historic battlegrounds of Auwa and the serene spiritual centers of Om Temple and Sonana Khetlaji, Pali offers an unforgettable journey through the very heart of India's most captivating state.
Aluva, a lesser-known destination in the beautiful state of Kerala, offers a charming and enriching experience to those who venture...