Top Places to Explore in Morbi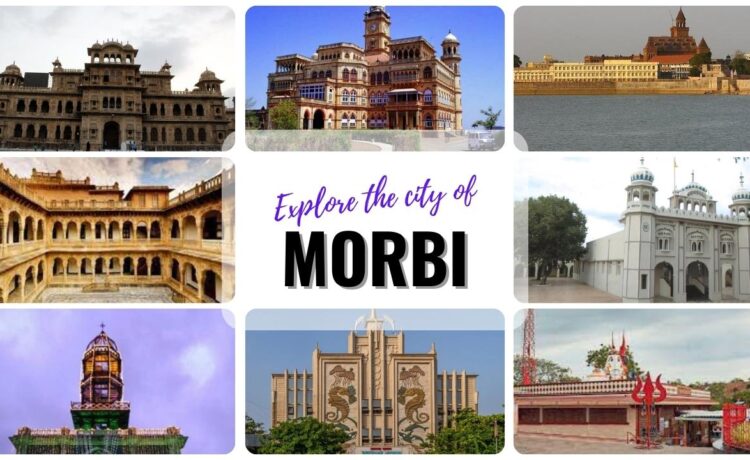 The vibrant state of Gujarat, Morbi is a city that often flies under the radar of most travelers. However, this hidden gem is a treasure trove of history, culture, and architectural wonders waiting to be discovered. With its stunning palaces, serene lakes, and bustling markets, Morbi offers a unique blend of experiences for the intrepid explorer. The top places to explore in Morbi, giving you a glimpse of the rich tapestry of this charming city.
1. Mani Mandir Palace
Our journey through Morbi begins at the awe-inspiring Mani Mandir Palace, a masterpiece of architectural grandeur and historical significance. Constructed in the 19th century by the Jadeja rulers, this palace is a harmonious fusion of Rajput and European architectural styles. The intricate stone carvings, vibrant glass windows, and the resplendent Durbar Hall adorned with a majestic chandelier are just some of the highlights that make Mani Mandir Palace a must-visit. The palace's lush gardens provide a serene setting for a leisurely stroll and a perfect spot for history buffs and architecture aficionados.
2. Wankaner Palace
A short drive from Morbi leads you to the enchanting Wankaner Palace, also known as Ranjit Vilas Palace. This sprawling palace complex is a testament to the royal heritage of the region. With its regal architecture, meticulously manicured gardens, and a museum housing an impressive collection of artifacts, the Wankaner Palace offers a glimpse into the opulent lifestyle of the erstwhile princely state. The palace's museum is a treasure trove of historical relics and art, offering insight into the rich cultural tapestry of the area.
3. Hamirsar Lake
For a serene escape within the city, Hamirsar Lake is a tranquil oasis waiting to be explored. Encircled by a well-maintained promenade, this peaceful lake invites you to take leisurely strolls and enjoy picnics by its shores. The sight of the lake, especially during the evening when the setting sun paints the sky with vivid hues, is a breathtaking experience. You can also indulge in boating activities and savor delicious snacks from local vendors, making Hamirsar Lake a delightful spot for visitors of all ages.
4. Darbargadh Palace
Morbi is a city brimming with palatial wonders, and Darbargadh Palace is another architectural gem that shouldn't be missed. This palace, with its intricate architecture and ornate facades, stands as a testament to the city's grandeur in the past. The palace complex includes a splendid courtyard, intricate artwork, and a museum that houses a treasure trove of artifacts and memorabilia from the royal era. A visit to Darbargadh Palace is a journey through history and culture, offering a glimpse of the opulence that once graced this princely state.
5. Gurudwara Nanak Dham
Gurudwara Nanak Dham, nestled in Morbi, serves as a sacred place of worship for the Sikh community. Beyond its religious significance, this Gurudwara is renowned for its remarkable architecture and serene ambiance. The white marble structure, adorned with intricate carvings and a tranquil interior, provides a peaceful space for reflection and prayer. Visitors are welcomed with open arms, and the Langar (community kitchen) serves a wholesome meal to all, regardless of their background, embodying the spirit of community and inclusivity.
6. Green Chowk
A visit to Morbi's vibrant Green Chowk is a sensory delight that provides insight into the city's daily life. Here, you can immerse yourself in the local culture and shop for traditional handicrafts, ceramics, and textiles that Morbi is renowned for. The market's lively atmosphere, with colorful displays of pottery and vibrant textiles, is a testament to the city's rich artistic heritage. Don't forget to hone your bargaining skills and take home a piece of Morbi's cultural legacy as a cherished souvenir.
7. Art Deco Buildings
Morbi boasts a unique collection of Art Deco architecture, reminiscent of the 1930s and 1940s. As you explore the city, keep an eye out for these architectural gems. The elegant lines, geometric patterns, and pastel colors of these buildings exude a distinct charm that transports you to a bygone era. Take a leisurely stroll through the city's streets and discover these hidden architectural treasures that add a unique character to Morbi.
8. Shree Khodiyar Mandir
Shree Khodiyar Mandir, a revered temple dedicated to the goddess Khodiyar, holds a special place in the hearts of the locals. The temple's intricate architecture and tranquil surroundings make it a popular pilgrimage site. It's not merely a place of worship but also a cultural center, often hosting religious and cultural events that offer insight into the city's traditions and celebrations.
In Conclusion, Morbi its rich history, cultural heritage, and architectural marvels, is a city that beckons travelers to uncover its hidden treasures. Whether you're an enthusiast of history, an admirer of architecture, or simply seeking a tranquil retreat, Morbi has an array of experiences to captivate every visitor. From exploring majestic palaces that narrate tales of royalty to meandering through bustling markets that pulse with the city's vibrant life, Morbi offers a delightful blend of experiences. Embark on a journey of discovery to Morbi, where history, culture, and charm converge to create a timeless tapestry of Gujarat's hidden gem.
Aluva, a lesser-known destination in the beautiful state of Kerala, offers a charming and enriching experience to those who venture...