Top Places to Explore in Gondia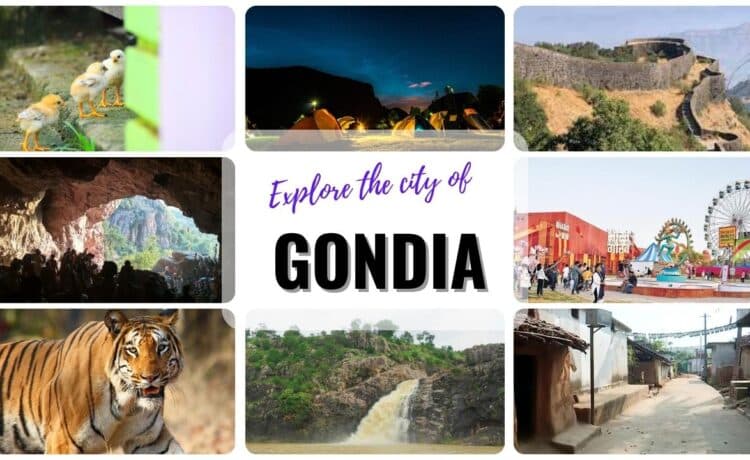 Gondia, a city in the Indian state of Maharashtra, is an enchanting destination that has remained largely undiscovered by tourists. Known as the "Rice City" due to its numerous rice mills, Gondia is not just an important agricultural hub, but also a treasure trove of natural beauty, historical sites, and cultural attractions in Maharashtra. In this comprehensive guide, we will take you through the top places to explore in Gondia and provide useful information to help you plan a memorable trip.
Navegaon National Park: A Wildlife Haven
Navegaon National Park is undoubtedly one of the must-visit places in Gondia. Spread across 133.78 square kilometers, this park is located in the southern part of the district and plays a crucial role in nature conservation. The verdant landscapes, picturesque surroundings, and clean, fresh air make it an ideal escape for nature lovers.
Rich Biodiversity and Scenic Beauty
The park boasts an impressive array of flora and fauna, including 209 bird species, 9 reptile species, and 26 mammal species such as the Tiger, Panther, Jungle cat, Small India Civet, Palm Civet, Wolf, and Jackal. The lush vegetation ranges from dry mixed deciduous forests to moist forests, providing diverse habitats for these species.
Visitor Facilities and Wildlife Viewing
Navegaon National Park offers an interpretation center, a small museum, and a library for visitors to learn more about the park's wildlife and conservation efforts. There are also seven watch houses and five watch towers that provide excellent opportunities for wildlife viewing and photography.
Nagzira Wildlife Sanctuary: A Green Oasis
Nagzira Wildlife Sanctuary is another gem in Gondia, nestled between the districts of Bhandara and Gondia. Located about 22 kilometers from Sakoli on National Highway No. 6, this sanctuary is a remarkably well-maintained "Green Oasis" that serves as a living outdoor museum for nature enthusiasts.
A Treasure Trove of Nature
The sanctuary is adorned with stunning landscapes and lush vegetation, making it a perfect destination for those seeking to explore and appreciate nature. With its immense potential for biodiversity conservation, Nagzira Wildlife Sanctuary is a valuable asset that we must protect and preserve as part of our national heritage.
Kachargadh Caves: A Window to the Past
Located 55 kilometers from Gondia, Kachargadh is a popular tourist spot, thanks to the 25,000-year-old natural caves found here. Archaeologists have discovered stone weapons used by people of that era, making it a fascinating site for history buffs.
Adventure and Spirituality
Nestled in a dense forest, Kachargadh is not only an intriguing historical site but also a haven for trekkers and a place of worship for local people. The best time to visit the caves is between January and February.
Hazra Fall: A Picturesque Waterfall
Situated 50 kilometers from Gondia in Salekasa Tehsil, Hazra Fall is a stunning waterfall that cascades through emerald green greenery. It is an ideal camping spot and is just one kilometer away from Darekasa Railway Station.
Beauty and Adventure
During the rainy season, Hazra Falls is a popular tourist attraction, offering a breathtaking view surrounded by dense forests and hills. The location is also perfect for camping and hiking activities, making it a must-visit for adventure enthusiasts.
Padampur: Birthplace of a Renowned Sanskrit Writer
Padampur, a village in Amgaon Tehsil, is the birthplace of the famous Sanskrit writer Bhavabhuti. He was the creator of works such as Uttar Ramcharita, Malti Madhava, and Mahavir Charitra. A number of ancient idols have been discovered in and around Padampur, adding to its historical significance.
Chulbandh Dam: Serenity Amidst Nature
Located 25 kilometers from Gondia in Goregaon Town, Chulbandh Dam is a tranquil spot to unwind. The dam's attraction lies in the rain-fed water within the catchment of verdant hills, making it a peaceful place to relax and enjoy nature's beauty.
Dakram Sukdi: A Blend of Nature and Spirituality
Dakram Sukdi, situated in Tirora Tehsil in Gondia district, is home to the Chakradhar Swami Temple. The temple is set amidst the natural surroundings of Bodalkasa Dam and its surrounding hills, which are just 1 kilometer away.
Historical Significance
Dakram Sukdi is 15 kilometers from Gondia and was historically significant as the administrative headquarters of Kamtha Zamindari, which covered most of the Gondia District in the previous century.
Suryadeo Mando Devi: A Revered Pilgrimage Site
The Mando Devi and Suryadeo Temple is located 26 kilometers from Gondia. Situated on hillocks, Mando Devi Temple is revered by devotees, especially during the Navratra Festival.
Tibetan Camp: A Glimpse of Tibetan Culture
The Tibetan Camp in Gothangaon is a renowned tourist destination that offers a unique cultural experience. The camp serves as a residential area for Tibetans, and visitors can explore Buddhist temples and other sites of Tibetan significance.
Nagra: A Village with Ancient Temples
Nagra village, situated 5 kilometers from Gondia, is a popular destination for tourists and pilgrims alike. The village is famous for a 15th-century Shiva temple built using the Hemadpanthi method. There are also a few other temples in the village that are worth exploring.
Pratapgadh: A Cultural Extravaganza
Pratapgadh is located in Morgaon Arjun Tahasil, approximately 20 kilometers from Navegaon National Park. The village is known for its annual Shivrathi Celebration, a three-day festival organized by the local government. The highlight of the event is the 30-foot-tall idol of Lord Shiva situated in the mountain.
Aluva, a lesser-known destination in the beautiful state of Kerala, offers a charming and enriching experience to those who venture...