Top Places to Explore in Bharuch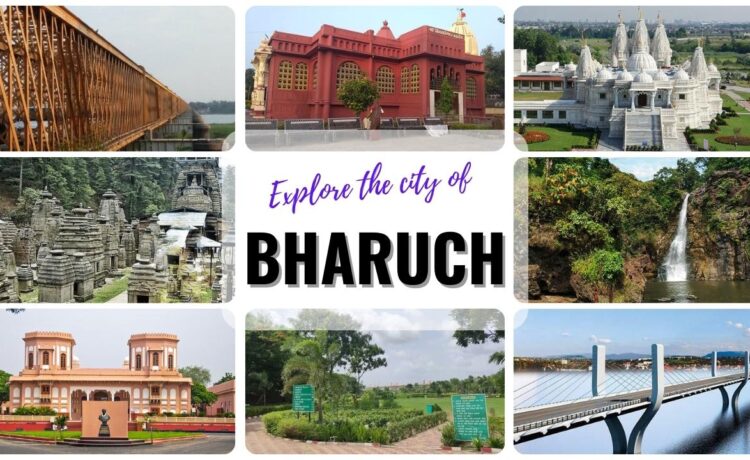 Bharuch, a city nestled on the banks of the Narmada River in the western Indian state of Gujarat, is a place steeped in history and culture. While not as famous as some of its neighboring cities like Ahmedabad or Vadodara, Bharuch offers a unique blend of ancient heritage and modern charm. Whether you're a history enthusiast, a nature lover, or just looking for a peaceful getaway, Bharuch has something to offer to everyone. We will take you on a journey through the top places to explore in Bharuch.
1. Golden Bridge (Narmada Bridge):
Our exploration begins with the iconic Golden Bridge, also known as Narmada Bridge. This marvel of engineering, constructed in the late 19th century, connects Bharuch with Ankleshwar. The bridge's yellow color, giving it the name "Golden Bridge," adds to its charm, especially during sunrise and sunset. Walking on this bridge offers breathtaking views of the Narmada River and the surrounding landscape, making it a favorite spot for photographers and nature enthusiasts.
2. Nilkantheshwar Temple:
For those seeking spiritual solace, the Nilkantheshwar Temple is a must-visit. Situated atop a hill, this ancient temple dedicated to Lord Shiva offers not only a serene religious experience but also panoramic views of the lush greenery and the Narmada River below. The temple's tranquil ambiance and the cool breeze from the river make it an ideal place for meditation and introspection.
3. Shri Swaminarayan Mandir (BAPS Mandir):
Another place of religious significance in Bharuch is the Shri Swaminarayan Mandir, also known as BAPS Mandir. This grand temple complex is a masterpiece of architecture and spirituality. Intricate carvings, colorful frescoes, and a serene garden make it a perfect place for a peaceful visit or a spiritual retreat. Don't forget to explore the beautiful Akshar Deri, a sacred monument within the temple premises.
4. Jageshwar Mahadev Temple:
Jageshwar Mahadev Temple, located on the banks of the Narmada River, is an ancient Hindu temple with a history dating back centuries. The temple's unique architecture and the soothing sound of the river create a tranquil atmosphere that is perfect for offering prayers and finding inner peace. The temple is particularly crowded during the annual Shivratri festival when devotees from all over the region gather here to celebrate.
5. Ninai Waterfall:
Bharuch surprises with its natural beauty, and Ninai Waterfall is a hidden gem that showcases this aspect. Nestled amidst lush green forests, this picturesque waterfall offers a refreshing break from the hustle and bustle of city life. A short trek through the forest leads you to the waterfall, where you can take a dip in the clear, cool waters and rejuvenate your senses.
6. Sardar Patel Museum:
To delve into Bharuch's rich history and cultural heritage, a visit to the Sardar Patel Museum is a must. Named after the Iron Man of India, Sardar Vallabhbhai Patel, this museum houses a diverse collection of artifacts, sculptures, and documents that shed light on the region's history. It's an educational and enlightening experience for history buffs.
7. Narmada Park:
For a leisurely stroll or a family picnic, Narmada Park is the ideal spot. Situated along the riverbank, this well-maintained park provides a green oasis in the heart of the city. With lush lawns, jogging tracks, and children's play areas, it offers a serene environment to unwind and enjoy the natural beauty of the Narmada River.
8. Sardar Bridge:
Apart from the Golden Bridge, Bharuch is also home to the Sardar Bridge, which connects Bharuch with Ankleshwar. This bridge is not only a crucial transportation link but also offers fantastic views of the Narmada River and the bustling industrial landscape of Ankleshwar. A walk across this bridge can be both an adventurous and scenic experience.
9. St. Mary's Orthodox Syrian Church:
A testament to Bharuch's cultural diversity, the St. Mary's Orthodox Syrian Church stands as a historic landmark. This centuries-old church showcases exquisite architecture and provides a tranquil atmosphere for prayer and reflection. It's a reminder of the harmonious coexistence of various faiths in the city.
10. Narmada Ghat:
Bharuch wouldn't be complete without a visit to the Narmada Ghat. This riverside promenade offers a serene place to sit and contemplate while watching the river flow by. It's also a hub for evening walks and a great place to witness the mesmerizing Ganga Aarti performed during festivals.
Bharuch, with its historical treasures, natural beauty, and spiritual sanctuaries, is a city waiting to be explored. Whether you're a traveler seeking adventure, a history enthusiast yearning to delve into the past, or simply looking for a peaceful getaway, Bharuch has something to offer. Embark on a journey, and let Bharuch's hidden gems enchant you with their unique charm and beauty.
Aluva, a lesser-known destination in the beautiful state of Kerala, offers a charming and enriching experience to those who venture...