Top Places to Explore in Baroda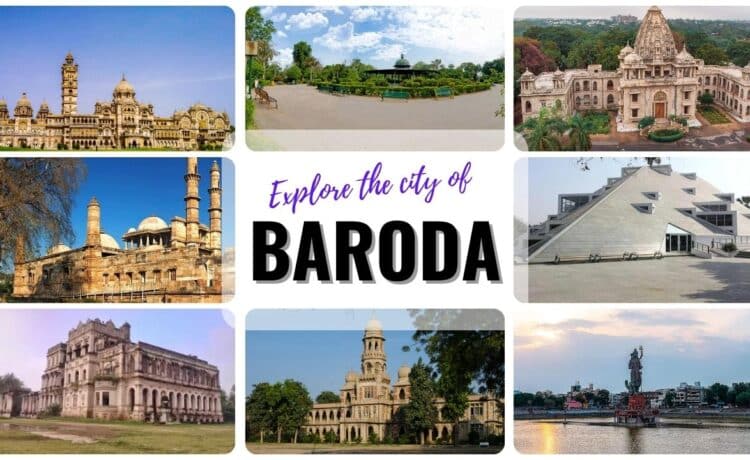 Vadodara, also known as Baroda, is a city in the western state of Gujarat, India. Steeped in history, culture, and a rich heritage, Vadodara is a city that effortlessly blends the old with the new. It's a place where majestic palaces stand shoulder to shoulder with modern infrastructure, where tradition and modernity coexist harmoniously. We will take you on a journey through the top places to explore in Vadodara, offering a glimpse into the city's fascinating tapestry.
1. Laxmi Vilas Palace:
The magnificent Laxmi Vilas Palace, a symbol of Vadodara's royal heritage. Built by Maharaja Sayajirao Gaekwad III in the late 19th century, this opulent palace is four times the size of Buckingham Palace in London. Its Indo-Saracenic architecture is a sight to behold, and the palace houses a museum showcasing an extensive collection of artifacts, including the exquisite Raja Ravi Varma paintings. The lush gardens and the grand Durbar Hall are also worth exploring.Laxmi Vilas Palace:
2. Sayaji Garden:
Adjacent to the Laxmi Vilas Palace lies the Sayaji Garden, a sprawling green oasis in the heart of the city. This well-maintained garden is perfect for a leisurely stroll, family picnics, or just unwinding amidst nature. It features a zoo, a planetarium, a floral clock, and numerous sculptures, making it a delightful destination for people of all ages.
3. Kirti Mandir:
Kirti Mandir, or the Temple of Fame, is a tribute to the Gaekwad dynasty's ancestors. This beautifully crafted marble temple houses the idols of past rulers and their family members. The intricate carvings and the serene ambiance make it a place of historical and architectural significance.
4. Champaner-Pavagadh Archaeological Park:
A short drive from Vadodara will take you to the UNESCO World Heritage Site of Champaner-Pavagadh Archaeological Park. This park is full with historical and architectural marvels. Explore the ancient stepwells, mosques, tombs, and forts that date back to the 8th century. The highlight is the Kalika Mata Temple, perched atop the Pavagadh Hill, offering panoramic views of the surrounding landscape.
5. Sardar Patel Planetarium:
If you're a science enthusiast or simply curious about the cosmos, the Sardar Patel Planetarium is a must-visit. It hosts fascinating shows and exhibitions about astronomy and space exploration, making it an educational and entertaining experience for visitors of all ages.
6. Kala Bhavan:
Vadodara is not just about history; it's a thriving cultural hub as well. Kala Bhavan is an art gallery that showcases a wide range of contemporary and traditional artworks by local and national artists. It's a place where you can immerse yourself in the vibrant art scene of the city.
7. Nazarbaug Palace:
Another architectural gem in Vadodara is the Nazarbaug Palace. Though not open to the public, the palace's façade and intricate design are worth admiring from the outside. It's a stunning example of Indo-Saracenic architecture and provides a glimpse into the opulence of the Gaekwad era.
8. Vadodara Museum and Picture Gallery:
Located within the Maharaja Fateh Singh Museum, the Vadodara Museum and Picture Gallery is a treasure chest of art and history. It houses an extensive collection of sculptures, paintings, and artifacts, offering insights into the city's cultural heritage and its connections to ancient civilizations.
9. Ajwa Water Park:
For a day of fun and relaxation, head to the Ajwa Water Park. Located near the Ajwa Lake, this water park offers thrilling rides, slides, and pools. It's a fantastic place to beat the heat and enjoy some quality time with family and friends.
10. Sursagar Lake:
Sursagar Lake, also known as Chand Talao, is a serene oasis in the bustling city. The lake is surrounded by lush gardens and is a popular spot for morning and evening walks. Boating facilities are also available, allowing visitors to enjoy the tranquil waters and the beautiful surroundings.
11. E.M.E. Temple:
The E.M.E. Temple, also known as the Dakshinamurthy Temple, is an architectural marvel dedicated to Lord Dakshinamurthy, a form of Lord Shiva. The temple's unique design and peaceful ambiance make it a spiritual retreat in the heart of the city.
12. Mandvi Gate:
A walk through the Mandvi Gate will transport you back in time. This historical gateway is a reminder of Vadodara's rich history and architectural heritage. It's a great place for photography and a leisurely stroll through the old city streets.
13. Rajmahal Palace:
The Rajmahal Palace, although not open to the public, is a stunning example of Maratha architecture. It's another testament to the grandeur of the Gaekwad dynasty and is best appreciated from the outside.
14. Street Food and Local Cuisine:
Vadodara is complete without savoring its delicious street food and local cuisine. From mouthwatering pav bhaji to delectable fafda and jalebi, Vadodara's culinary offerings will leave your taste buds wanting more.
15. Shopping in Vadodara:
Explore the local markets and bazaars, such as Mandvi Street and Lehripura Gate, for traditional handicrafts, jewelry, clothing, and vibrant textiles that make for perfect souvenirs.
In conclusion, Vadodara is a city that seamlessly combines history, culture, and modernity. Its architectural marvels, cultural heritage, and natural beauty make it a captivating destination for travelers. Whether you're interested in exploring the grand palaces and museums or indulging in the vibrant street food scene, Vadodara has something to offer everyone. So, get ready to embark on a journey through this enchanting city, where every corner has a story to tell.
Aluva, a lesser-known destination in the beautiful state of Kerala, offers a charming and enriching experience to those who venture...