Top Places to Explore in Ahmednagar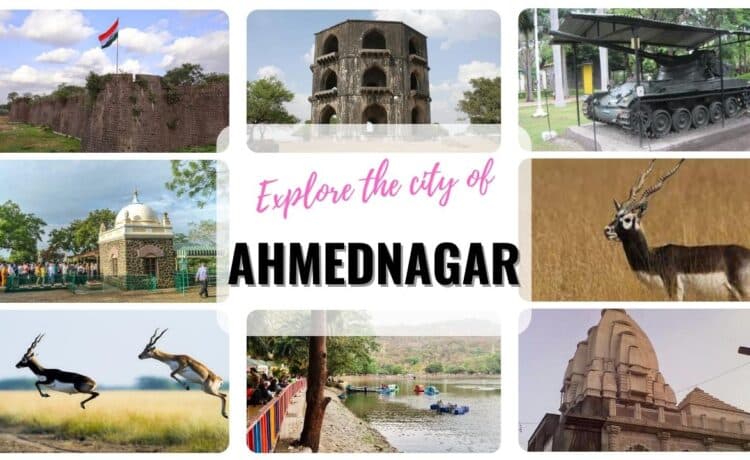 Ahmednagar, a city in the state of Maharashtra, India, is known for its rich history, cultural heritage, and picturesque landscapes. With a plethora of historical monuments, ancient temples, and natural attractions, Ahmednagar offers a unique blend of art, culture, and nature that attracts tourists from all over the world. In this article, we have curated a list of top places to explore in Ahmednagar that will make your visit to this beautiful city a memorable experience.
1. Ahmednagar Fort
The Ahmednagar Fort is a prominent historical site in the city that showcases the architectural brilliance of the ancient natives. The fort was initially constructed with mud in 1427 and was later transformed into a majestic stone fort by Ahmed Nizam Shah I, the first ruler of the Nizam Shahi Dynasty. The fort served as a stronghold to protect the city from external invasions and now stands as a testament to the city's rich history.
Location: M.I.R.C. Ahmednagar, Maharashtra- 414002
2. Tomb of Salabat Khan II
Salabat Khan II was a renowned statesman and minister in the court of the 4th Nizam Shah Murtaza. Today, his spectacular tomb is one of the famous places to visit in Ahmednagar. This magnificent three-storeyed stone structure is built in the signature Mughal architectural style and is situated at an elevation of 3,080 feet, making it visible from any part of the city.
Location: Sonewadi, Maharashtra 414002
3. Cavalry Tank Museum
The Cavalry Tank Museum is a must-visit attraction in Ahmednagar for military enthusiasts and history buffs. Established in 1994 by the Armoured Corps Centre and School, it is the only museum of its kind in Asia, housing 50 different vintage armoured fighting vehicles. The museum's collection includes war tanks, self-propelled guns, armoured cars, and specialist vehicles, making it an incredible experience for visitors.
Location: Iwale Nagar, Ahmednagar, Maharashtra 414001
4. Meherabad
Meherabad, derived from the Iranian word 'Mihir' meaning 'a friend' and the Sanskrit word 'Mithira' meaning 'a prosperous settlement', is a spiritual center established by the spiritual leader Meher Baba in 1923. After his demise, the ashram transformed into a popular pilgrimage center, attracting devotees from all walks of life. The serene and tranquil ambiance of Meherabad makes it a perfect place for spiritual rejuvenation.
Location: Arangaon Village, Ahmednagar, Maharashtra 414001
5. Rehekuri Blackbuck Sanctuary
Nature enthusiasts will find the Rehekuri Blackbuck Sanctuary to be a perfect place to explore in Ahmednagar. Established in 1980, this 2.17 square km sanctuary houses rare varieties of flora and fauna, including a herd of 400 magnificent Blackbucks, also known as "Kalvit" in Maharashtra. The sanctuary is also home to several rare bird species, making it an ideal destination for bird-watchers.
Location: Bargewadi, Maharashtra 414402
6. Pimpri Gawali
Located 25 km from the main city, the small village of Pimpri Gawali is a fascinating destination to explore near Ahmednagar. Despite being situated in rural Maharashtra, it is a hub of modernity and development, with several successful watershed development programs and agro-business schemes in place. The village offers visitors a chance to witness rural life while enjoying activities like trekking and hiking.
Location: Parner Taluka, Ahmednagar, Maharashtra, India
7. Farah Bagh
Farah Bagh, built by the Nizam Shahi rulers in the 13th and 14th centuries, is a fascinating historical site near Ahmednagar. The complex served as a retreat for Murtaza Nizam Shah, who used its gardens for leisurely strolls and chess games. Though most of the building is in ruins now, visitors can still explore the gardens and learn about the site's colorful history.
Location: Iwale Nagar, Morchudnagar, Maharashtra 414110
8. Siddheshwar Temple
Located 40 kilometers from Ahmednagar, the Siddheshwar Temple is dedicated to Lord Shiva and is set amidst misty hills, natural ponds, and waterfalls. The temple's intricate architectural designs attract both pilgrims and tourists alike. The best time to visit the temple is during the festive months of 'Sravan', when the area comes alive with cultural performances and celebrations.
Location: Tarakpur, Ahmednagar, Maharashtra 414001
9. Kapurbawdi Lake
Kapurbawdi Lake, built by Nizam Shah near Baneshwar Temple, is a tranquil spot for relaxation and picnics. Surrounded by the misty Sahyadri hills, the lake offers visitors a chance to enjoy birdwatching and boating, as well as explore the nearby Samadhi of Reverend Tilak, a famous Marathi poet.
Location: Burhannagar, Ahmednagar, Maharashtra- 414001
10. Vishal Ganpati Temple
The Vishal Ganpati Temple, believed to be 100 years old, is a popular attraction in Ahmednagar. The temple's architectural design is inspired by the famous Birla Mandir in Jaipur, and it houses a 3.6-meter-tall statue of Lord Ganesha. The best time to visit the temple is during the festive season of Ganesh Chaturthi.
Location: Behind Old Bus Stand, Old Maliwada Road, Maliwada, Ahmednagar- 414001
Additional Information
While visiting Ahmednagar, don't forget to try the local cuisine, which includes delicious Maharashtrian dishes like Misal Pav, Vada Pav, and Puran Poli. The city also offers a variety of shopping options, with local markets selling beautiful handicrafts, textiles, and jewelry.
In conclusion, Ahmednagar is a city that offers a diverse range of attractions for all kinds of travelers. From historical monuments and ancient temples to serene lakes and beautiful sanctuaries, there is something for everyone to enjoy. So, pack your bags and get ready to explore the captivating city of Ahmednagar.
Aluva, a lesser-known destination in the beautiful state of Kerala, offers a charming and enriching experience to those who venture...