Top Places To Explore In Ahmedabad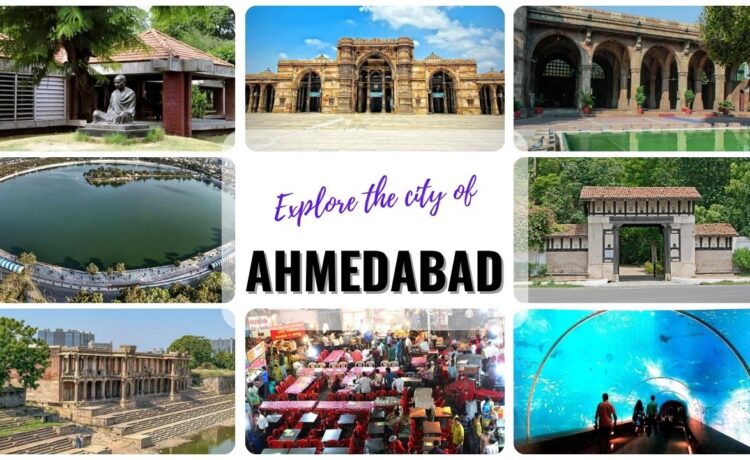 Ahmedabad, the largest city in the state of Gujarat, is a vibrant and culturally rich metropolis that effortlessly blends the old and the new. With a history dating back centuries and a modern outlook, Ahmedabad offers a plethora of attractions that cater to a diverse range of interests. The top places to explore in Ahmedabad, shedding light on the city's unique charm and its most captivating attractions.
Sabarmati Ashram: The Abode of Peace
Ahmedabad begins with a visit to the iconic Sabarmati Ashram, also known as Gandhi Ashram. This serene retreat on the banks of the Sabarmati River was Mahatma Gandhi's home for over a decade and served as the epicenter of the Indian freedom struggle. The ashram showcases a simple lifestyle, with preserved living quarters, a library, and a museum that provides insight into Gandhi's life and principles. A visit here is not just a historical experience but also a spiritual journey, as you walk in the footsteps of the Father of the Nation.
Jama Masjid: Architectural Splendor
Jama Masjid, built by Sultan Ahmed Shah in the 15th century, is a breathtaking example of Indo-Saracenic architecture. This grand mosque features stunning yellow sandstone and intricate marble carvings. Its iconic central dome, exquisite prayer hall, and the peaceful courtyard make it a must-visit destination for history and architecture enthusiasts. The mosque is particularly enchanting during evening prayers when it comes alive with the soothing echoes of the call to prayer.
Sidi Saiyyed Mosque: The Marvel of Stone Lattice
Sidi Saiyyed Mosque, located in the heart of Ahmedabad, is renowned for its mesmerizing stone lattice-work window, known as the "Sidi Saiyyed Jali." This intricately carved lattice is a masterpiece of architectural design and craftsmanship. It is also known as the unofficial symbol of Ahmedabad. The mosque's serene ambiance and the artistic detailing of the jali make it a favored spot for both tourists and locals.
Kankaria Lake: Leisure and Recreation
Kankaria Lake is a sprawling artificial lake and an ideal spot for leisure and recreation. The lake features a circular promenade, where visitors can enjoy a leisurely walk or a cycle ride. The lakefront also offers a range of activities, including paddle boating, toy train rides, and balloon safaris. A highlight of Kankaria Lake is the Nagina Wadi, an island garden with a musical fountain and a zoo. It's a perfect place for a family outing or a romantic evening stroll.
Calico Museum of Textiles: A Fabric Journey
The Calico Museum of Textiles is a treasure trove for textile enthusiasts and art connoisseurs. Housed in a magnificent mansion, this museum boasts an extensive collection of textiles from various regions of India. The exhibits include intricate textiles, rare fabrics, and centuries-old tapestries. The museum offers guided tours that provide insights into the history, artistry, and cultural significance of these textiles. Due to its popularity, it's advisable to book a guided tour in advance to fully appreciate the collection.
Sarkhej Roza: Architectural Serenity
Sarkhej Roza, located on the outskirts of Ahmedabad, is an architectural complex that served as a prominent Sufi center in the 15th century. The complex includes a mosque, a tomb, a palace, and a tank. The elegant architecture, serene surroundings, and intricate stone carvings make Sarkhej Roza a peaceful retreat. The place is an excellent representation of Indo-Islamic architecture and offers a glimpse into the region's historical and cultural heritage.
The Auto World Vintage Car Museum: A Journey Through Time
For automobile enthusiasts and history buffs, the Auto World Vintage Car Museum is a must-visit attraction in Ahmedabad. This museum houses a remarkable collection of vintage cars, including classic Rolls-Royces, Bentleys, and Cadillacs. Walking through the museum feels like stepping back in time as you admire these impeccably restored automobiles. The museum also provides insights into the evolution of automotive engineering and design.
Adalaj Stepwell: Architectural Marvel Beneath the Earth
The Adalaj Stepwell, located on the outskirts of Ahmedabad, is a marvel of architecture and engineering. Built in the 15th century, this stepwell served as a place for water storage, social gatherings, and religious rituals. The intricate carvings, geometric patterns, and the cool, subterranean chambers make Adalaj Stepwell a captivating destination. Exploring this stepwell allows you to appreciate both its architectural beauty and its historical significance.
Gujarat Science City: A Fun Learning Experience
Gujarat Science City is an educational and entertaining destination for visitors of all ages. This interactive science museum features a range of exhibits and attractions, including a planetarium, an IMAX theater, and a variety of hands-on activities. The museum is designed to make learning about science and technology engaging and enjoyable. It's an excellent place for families and school groups to explore scientific concepts in a fun and interactive environment.
In Conclusion, Ahmedabad its rich history, architectural wonders, and cultural diversity, is a city that caters to a wide range of interests. Whether you're a history enthusiast, an architecture admirer, a food lover, or someone seeking spiritual solace, Ahmedabad has something to offer everyone. The city's unique blend of ancient traditions and modern progress makes it a dynamic and captivating destination. The top places in Ahmedabad, and immerse yourself in the vibrant culture and heritage of this incredible city.
Aluva, a lesser-known destination in the beautiful state of Kerala, offers a charming and enriching experience to those who venture...