Top Places to Explore Aurangabad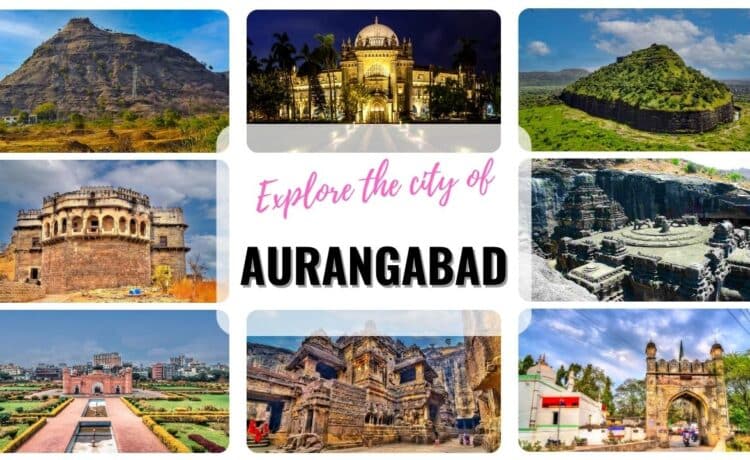 Aurangabad, a city named after the Mughal Emperor Aurangzeb, is a treasure trove of ancient caves, forts, and historical monuments. Located in the Indian state of Maharashtra, this city is a must-visit destination for history enthusiasts, architecture lovers, and anyone looking to immerse themselves in the rich cultural heritage of India. In this comprehensive guide, we have compiled a list of the top places to explore in Aurangabad, along with helpful information on how to make the most of your visit. So, without further ado, let's dive into the wonders of this magnificent city!
1. Ajanta & Ellora Caves: A UNESCO World Heritage Site
The Ajanta and Ellora caves are undoubtedly the crown jewels of Aurangabad's tourist attractions. These ancient rock-cut cave complexes, dating back to the 2nd century BC, showcase the finest examples of Indian art and architecture. Declared as a UNESCO World Heritage Site in 1983, the caves are a must-visit for anyone exploring Aurangabad.
Ajanta Caves: A Testament to Buddhist Art and Culture
The Ajanta caves comprise 30 rock-cut Buddhist cave monuments, adorned with exquisite murals, paintings, and sculptures that represent various aspects of the life of the Buddha. The caves were used by Buddhist monks as a place for meditation and study, and they offer a unique insight into the development of Buddhist art and culture in ancient India.
Ellora Caves: A Confluence of Three Major Religions
The Ellora caves, located about 30 km from Aurangabad, consist of 34 rock-cut cave monuments that represent the artistic and religious diversity of ancient India. The caves are dedicated to three major religions – Buddhism, Hinduism, and Jainism – and feature awe-inspiring sculptures, carvings, and architectural marvels. The most famous of these is the Kailasa Temple, which is carved out of a single rock and is considered the world's largest monolithic structure.
2. Bibi Ka Maqbara: The Taj of the Deccan
Often referred to as the "Taj of the Deccan," Bibi Ka Maqbara is a stunning mausoleum built by Prince Azam Shah in memory of his mother, Begum Rabia Durani. This architectural marvel bears a striking resemblance to the iconic Taj Mahal and is one of the must-visit places in Aurangabad.
3. Daulatabad Fort: A Symbol of Power and Grandeur
The majestic Daulatabad Fort, also known as Devagiri Fort, is perched atop a 200-meter high conical hill and offers breathtaking views of the surrounding landscape. Built in the 12th century, this imposing fortress is considered one of the "seven wonders of Maharashtra" and is a must-visit for history buffs and adventure seekers alike.
4. Grishneshwar Temple: A Spiritual Haven
Located just 1 km away from the Ellora caves, Grishneshwar Temple is a revered Hindu shrine dedicated to Lord Shiva. Considered to be the 12th 'Jyotirlinga' on earth, the temple holds immense spiritual significance and attracts thousands of pilgrims every year.
5. Pitalkhora Caves: A Glimpse into Buddhist Architecture
Dating back to the 2nd century BC, the Pitalkhora Caves are another example of the exquisite rock-cut architecture of ancient India. Comprising 14 Buddhist cave monuments, these caves are set amidst the lush greenery of the Western Ghats and offer a serene and tranquil experience for visitors.
6. Siddharth Garden and Zoo: A Perfect Family Getaway
Located just 3 km from Aurangabad Railway Station, Siddharth Garden and Zoo is an ideal destination for a fun-filled family outing. This beautifully landscaped garden is home to a variety of plant species and also houses a zoo, which is a haven for wildlife enthusiasts.
7. Shivaji Maharaj Museum: A Tribute to the Great Maratha Warrior
Dedicated to the life and times of the legendary Maratha king Chhatrapati Shivaji Maharaj, this museum showcases an impressive collection of artifacts, weapons, and other items that offer a glimpse into the glorious Maratha Empire.
8. Goga Baba Hill: A Peaceful Retreat
For those seeking peace and tranquility amid nature, Goga Baba Hill is an ideal destination. This serene spot offers panoramic views of the city and is home to a small temple that adds to the spiritual ambiance of the place.
9. Sunheri Mahal: A Royal Architectural Masterpiece
Situated 6 km from Aurangabad Railway Station, Sunheri Mahal is a grand palace built with lime and stone. This two-story structure showcases the purest form of royal Indian architecture, complete with well-manicured gardens and intricately designed archways.
10. Gul Mandi: A Shopper's Paradise
Gul Mandi is one of the largest markets in Aurangabad, offering a wide range of textiles, handloom shawls, and other items. This bustling market is a must-visit for shopaholics, as it provides ample opportunities to purchase traditional Indian handicrafts and souvenirs.
Additional Places to Explore in Aurangabad
In addition to the aforementioned attractions, Aurangabad is home to several other fascinating places worth exploring, such as:
Bani Begum Garden: A Mughal-style garden featuring beautiful fountains and domes
Panchakki: An ancient water mill complex and popular picnic spot
Khuldabad: A historic town known as the "Valley of Saints"
Salim Ali Lake: A picturesque lake and bird sanctuary
Bhadra Maruti: An ancient temple dedicated to Lord Hanuman
Himroo Factory: A 150-year-old factory showcasing traditional hand weaving techniques
Dargah of Pir Ismail: A 17th-century memorial built in memory of a spiritual teacher
Aurangabad is truly a city that offers something for everyone, from history buffs to nature lovers and shopping enthusiasts. With its rich cultural heritage, stunning architecture, and serene natural beauty, it is no wonder that Aurangabad has emerged as a popular tourist destination in India. So, pack your bags and get ready to embark on an unforgettable journey through the wonders of this magnificent city!
Aluva, a lesser-known destination in the beautiful state of Kerala, offers a charming and enriching experience to those who venture...